Zomato's latest marketing strategy has created a loud buzz on the internet. Its latest digital campaign, #zomatoloot gives an opportunity to all the users, who are tired of hearing 'creamy pasta' and 'butter chicken' in the unskippable YouTube ads, to make ads they actually would like to see.
Although Zomato is a food delivery brand, it is immensely popular for its relatable witty one-liners and cool marketing campaigns. Another thing Zomato is famous for is for the YouTube ads that flash before each video.
Consumers were tired of listening to the same ad on all the YouTube videos and have bombarded Zomato's social media accounts with criticism.
Zomato turned over the consumer criticism and converted it into an excellent marketing strategy.
Zomato's marketing strategy:
Zomato sensed that people were tired of listening to the same ad on repeat. The food-delivery brand took over their social media handles and released a picture stating 'Zomato's YouTube ads suck'. The brand adopted a smart move and conversed with the language of the audience, to the audience.
It's rare when a brand accepts that their ads 'suck.' Since Zomato was pretty upfront about the whole YouTube ad situation, it made them win a lot of hearts.
They released a contest called #zomaloot wherein consumers can make their own version of Zomato ads. Whoever wins the contest, gets prize money worth Rs. 25 Lakhs and the user-generated video will be displayed as the new Ad by Zomato on Youtube.
More about #Zomaloot:
To be a part of the contest, users had to make a super fun ad within the time frame of one minute and upload it on their Instagram handles till 2nd October 2020. It kept reminding users about the time left for the contest to close by adding various fun posts on their official Instagram handle.
The contest received an amazing response from the audience. It had a total of 4113 entries. Zomato dedicated an entire Instagram post to thank each and everyone who participated in the contest.
In their post on Instagram, they sarcastically wrote, "who would have thought our " our butter chicken and creamy pasta" ad would inspire so many people to do such great work?"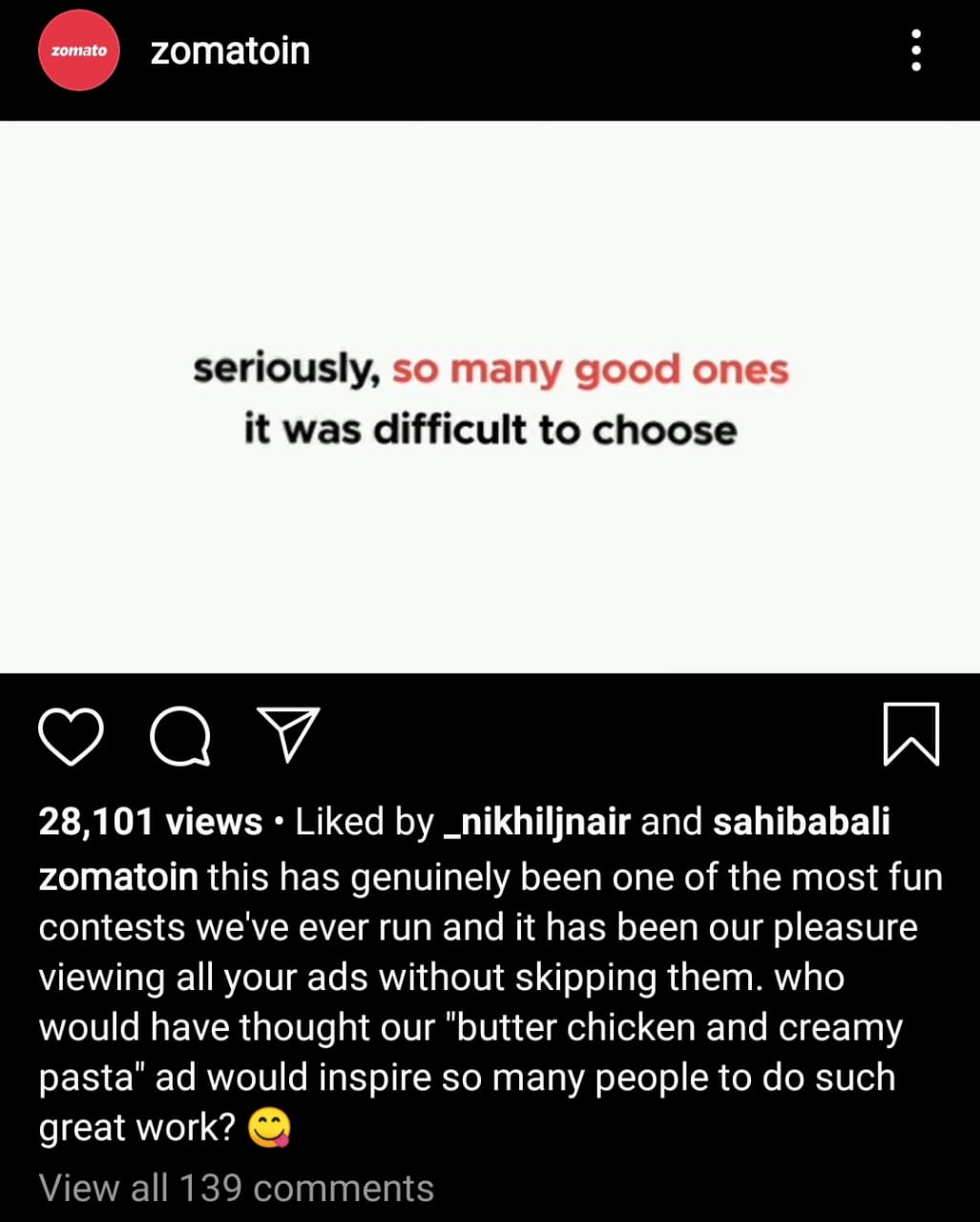 The post was a compilation of all the different user entries and gave a glimpse of user creativity.
#Zomatoloot contest Winners: 
Zomato India announced the contest winners on their official Instagram account. They chose three winners for the contest. Harikant Singh won the first position and received Rs 25 lakhs from the brand. Zomato also announced 2nd and 3rd prize winners on their social media handles.
Zomato's core strategy is to deliver effective and relatable communication to the audience. Unlike most other brands, they've always indulged in conversations, and the tone of their voice has always been pretty engaging. It is what makes them stand out from the crowd. The brand's biggest strength is that they know how to play around with their content and are not restricted to a particular format.
Zomato India's brilliant campaign strategy to turn negative criticism into an advantage for the brand will definitely become one of the most interesting marketing case studies in the coming years.