With the sudden boom of the internet, multiple cultural shifts have happened over the years. It has not just impacted people, but also brands and businesses.
Gone are the days when traditional forms of media made rounds to advertise campaigns and brands. Marketing has successfully altered people's interactions, work, social mentions, purchases and life habits over the years.
Marketers and advertising agencies are turning towards consumer research and web listening tools to understand and capture their audiences' attention.
Web listening tools can help marketers to monitor social media platforms (such as Facebook, Instagram, Twitter, YouTube) as well as non-social media platforms (such as blogs, forums, review sites etc.) to identify and respond to mentions on different platforms.
A full-fledged online campaign has multiple parameters that need to be tapped. By monitoring the web mentions of their brand in their demographic, brands can craft their campaign as per social mentions.
With Rankme, marketers can have smart brand solutions through AI-built algorithms.
Why RankME ?
RankME comprises each category-specific tool that isolates relevant data by crawling the web while allowing you to manage reputation, track competition real-time, and generate custom reports.
RankME tool provides in-depth analysis to measure the effectiveness of the campaigns. The tool is systematically divided into 72 features that give a detailed analysis of consumer interactions and engagements.
Using the platform, brands can monitor, manage and multiply their brand image by using technology interventions. With the help of the tool, you can generate pre and post-campaign mention reports to understand the sentiment analysis of your product.
What sets Rankme apart from other competitors in the market is its ability to carry out functions that help in building more focused advertising campaigns and Key Opinion leaders discovery, all under one dashboard. 
Each feature is made with powerful integrations for seamless communication and collaboration. RankME includes 72 inbuilt features, which no other AI-driven tool has access.
First and foremost, the step of influencer marketing is identifying authentic influencers who can create the most impact among the target audience. Using RankME, you can find influencers who are having social conversations about your brand.
RankME generates real-time notification alerts to immediately inform brands about any lousy review or brand name associated with any negative keyword.
This feature allows brands to promptly deal with customer issues then and there, which in return, implants brand trust among the audience.
Here are 7 essential features that you are going to get with Eleve's RankME.
Reputation Management – Manage each opinion about the client in one dashboard.
Crisis Management/Real-Time PR – Mitigate crisis using real-time notifications.
Influencer Marketing – Engage with trusted micro-influencers to spread your message.
Media Intelligence – Filter and Analyze the vast amount of data available online.
Public Affairs and Campaign Analysis – Analyze the target audience and measure running campaigns.
Social and Digital Media Management – Discover and engage with public opinion from social and non-social channels.
Competitive Analysis – Track what your client's competitors are doing.
The tool helps brand manage their online perception in the digital ecosystem through features like:
Potential Reach
Top Keyword/Hashtag report
Talk to potential customers
Social Listening
Web Listening
RankME provides end-to-end tracking and gives brand complete control over campaign parameters through:
Setup and optimize consultant
Live chat assistant
Customized email alerts
Ongoing campaign support
Mobile App
RankME 's AI-driven tools –
Use Mention Insights to stay ahead of your competitors:
Using RankME's mention analytics feature, brands can monitor their social media presence, performance, and manage their reputation based on the information and data insights.
They can get access to all Mention insights, which would help them to track their growth as well as give them comparative analysis of the competitors in the same market. 

RankME's Mentions insights provide 9 types of features like, Mention Analysis – This feature provides brands to check their online reputation metrics, distribution of mentions over time-based on the sentiment, and channel-wise distribution of your mentions. Keyword Analysis – A detailed analysis of all the mentions of your keywords that shows Keyword Distribution by Channel and Keyword Distribution as per sentiment.
Hashtag Analysis – A detailed analysis of all the hashtags around your brand divided into channel-wise hashtag distribution, audience hashtags, buzzwords, timewise hashtag performance, and performance comparison of brand own hashtags vs audience usage.
Mentions Location – Provides mention location across all over India.
Top Authors – Top Authors are the people who have talked about your brand positively the maximum number of times.
Top Media Mentions – Get mentions analysis of all the mentions of your brand on social media platforms and websites.
Social Account Summary – Get stats like Engagement, Average Engagement and posing frequency rate of your competitor brands.
Brand Promoted Content – Get a content list of all the branded content on selected social media platforms.
Post Frequency – Understand the posting frequency of your competitors by every hour, week, and monthly basis.

Once the campaign is live, brands can moderate the social mentions filters as per their convenience. It enables brands to discover and monitor all sorts of media coverage, like all social media trends, online news, and blogs.
RankME's sophisticated algorithm helps in segregating the sentiments of the audience based on the type of comments and reviews. It classifies each new mention into positive, negative, or neutral.
This way, brands can work on their products based on the honest feedback laid out by the audience. Brands can also select the mentioned medium while analyzing the campaign.
Leverage Demographic insights to promote your product-
Another advantage of RankME's mention analytics tool is that the filter allows brands to have a graphical representation of the country and state wise division of the mentions.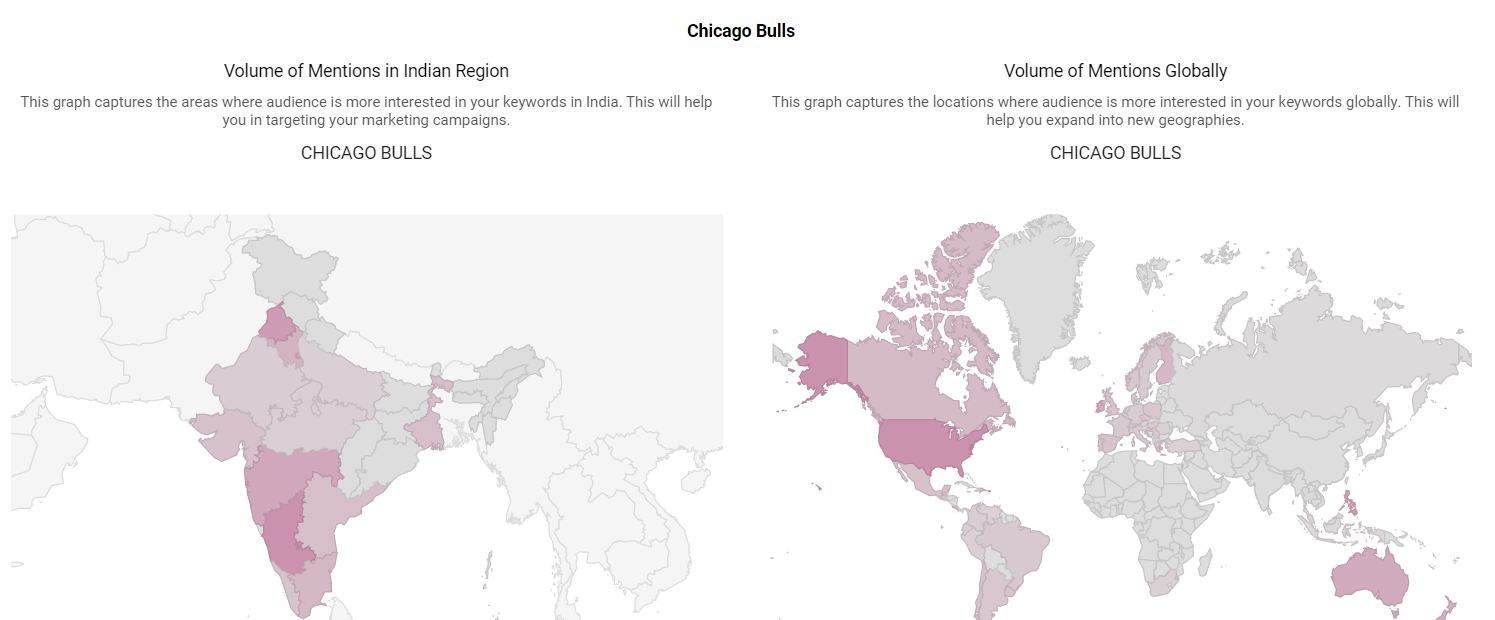 It's an added benefit to get demographic insights for the ongoing campaign and to form strategies for other similar campaigns in the future. The statistical representation is done through graphs and figures to give a better understanding to the marketers.
Demographic analysis depicts the brand's target audience, regionally, and globally. RankME's AI, indexes, and updates these profiles in real-time. The algorithm analyzes specific area audiences and counts the reach and engagement based on keywords. Brands can identify appropriate opinion leaders related to the brand's niche and uncover their demographic to enhance brand outreach.
Find Brand Advocates who frequently talk about your brand.
Brand Advocate is a discovery tool to find organic influencers. This feature allows brands to analyze top priority influencers based on different scores. The influence score navigates influencers on all social media platforms based on appropriate parameters.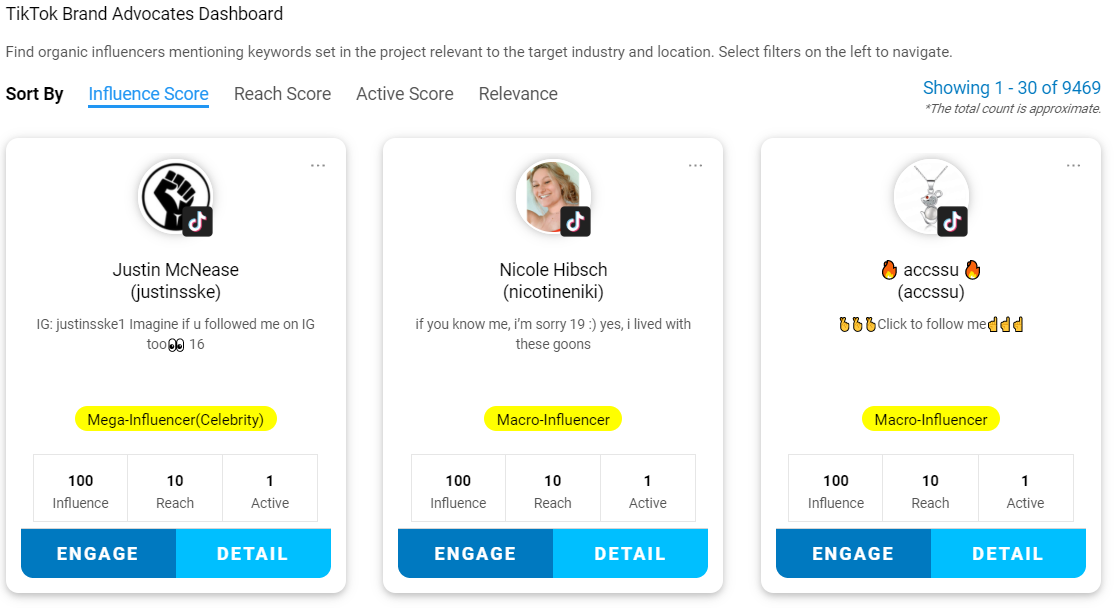 Influencer score helps brands reach out to influencers who can actively promote the product based on their engagement and interest in the brand's niche.
Brands will only spend money on influencers who can do justice to the campaign. Hence, finding the right fit for the puzzle is one of the most critical aspects.
Review Analyzer:
Review Analyzer keeps a tap on all the conversations from all digital platforms to see what people in the industry, as well as users, are saying about the brand. In-depth mention analysis of customers gives the brand a notion about the market trends, topics, and popular subtopics, including positive and negative reviews about the brand on e-commerce websites.
Audience Dashboard:
Audience Dashboard feature offers a complete insight analysis of the audience data captured through various platforms after the campaign goes live. The AI-driven tool allows the brand to customize and filter all KPIs according to the needs and demands of the campaign.

Brands can adjust the filters to get a clear understanding of the platforms through aspects like most common language by the audience. Customization of keywords and influencer specifications, like the Influencer score or the number of followers, is also available for brands.
Competition analysis:
Brands can have access to the comparative analysis of the other competitors in the market and can compare performance against top industry leaders. All the key metrics involved in the campaign development demonstrates a full comparison between the projects. This helps marketers to keep an eye on all the competitors and enable brands to dominate their place in all spheres of the market.
Custom Reports:
The other key feature of Rankme is that all the parameters analyzed by the Mention Analytics can combine into a customized document as per the need and demand of the brand or the agency.
It lets the brand generate custom reports as per the metrics involved in the campaign, saving a lot of time for marketers. Mentions Report, Infographic Report as well as Raw Data report are some of the options Rankme provides to the users.

RankME is one stop for all the brands who wish to have impactful strategies and effective, measurable outcomes. As a tool that focuses on providing an in-depth and authentic experience and a platform that continually strives towards data-driven insights and creative strategies, to produce meaningful relationships between brands and creators, it's necessary to evolve with the pace of time.
RankME will unlock the true potential of the campaign by touching critical aspects of the campaign and digging in-depth information through AI-built technology. Through this platform, it's safe to say, the future of influencer marketing will revolutionize for good and can help meet more significant results.