Indians geared up to observe the sixth International Day of Yoga (IDY) on 21st June 2020, as influencers across social media platforms celebrated fatherhood and fitness at home along with family.
This year the Ministry is encouraged people to practise yoga at their homes, with participation from the entire family. Through the My Life – My Yoga video blogging competition, the Ministry of AYUSH and ICCR seek to raise awareness about yoga and to inspire people to prepare for and become active participants in the observation of IDY 2020.
Amidst the chaos of the fast-paced lives, looking after the mental and physical wellness is as vital as any other day-to-day activity. With ongoing busy work from home schedules and a pile of responsibilities, exercising should be considered an essential aspect of the routine.
Yoga and its key benefits
Yoga is one of the most trusted methods to avoid health problems and calm the jittery mind. It aims at physical, mental, and spiritual well-being through multiple exercises or 'Asanas' and relaxation techniques. It unravels the layers of the human psyche and affects the behavioural patterns, developing factors to cope up with stress and issues.
Yoga rejuvenates and revives the body, guaranteeing physical prosperity. It develops rhythmic coordination between body movement and breathing patterns, which enhances blood circulation and reduces body tension.
The benefits associated with yoga is subjective to each person. Some might get physical benefits, and some might attain inner peace. Each exercise or Yoga asana has its significance. Regular practising of yoga in daily lives can:
Improve awareness
Reduce heart attack, negative block, and toxins from the body
Improve focus, attraction, and concentration
It increases flexibility
Become mere relaxing
Reduces body fat
Increase muscle strength.
Regular exercise controls your weight
Yoga doesn't require any fancy equipment or a specific location. One can practice it depending on its convenience and space, making it cost-efficient and time-saving.
Social media presence measured by RankME
Social media users have started discussing aspects like mental wellness and have started taking health much seriously now. This conversations on health have opened the doors for yoga conversations on the digital forefront.
Using RankME's social mentions analytics tracker, we did a one-month (Between 20th May 2020- 20th June 2020 ) social media analysis to understand the mentions of people regarding yoga on social media.
Analyzing platforms like Twitter, Facebook, Instagram, and Tik Tok helped us attain multiple insights that can be useful for marketers and advertisers.
Social Mentions:
Considering all the mentions posted by brand and audience handles, its social media potential reach extended up to 110.6M within a month. A hike in yoga-related mentions surged during mid of June when it reached up to 115 thousand social mentions.
With 17.1 Million social media interactions combined and 146.3 Million social media engagements in terms of brand shares, comments, and replies, it was able to generate a buzz on digital platforms.

Sentiment Analysis:
Keeping track of the sentiment of the mentions is as important as analyzing the brand mentions. Sentiments depict what and how the audience perceives the brand. Most of the mentions made for the brand were either positive (5.9K) or neutral (5.3K) and showed ascending growth over time. Though negative mentions (3.2K) were lesser compared to the other two, it saw a spike on 13th June with a value of 548.

Mention Analysis:
Tapping through all the digital channels, yoga made a significant impact on Twitter as it has the maximum number of mentions, followed by Facebook comments, Instagram, Tik Tok, online articles, customer reviews, and YouTube videos.
Keyword Analysis:
MyLifeMyYoga became the most popular search keyword on twitter. Most keywords appeared on channels like Instagram, Facebook comments, and Tik Tok.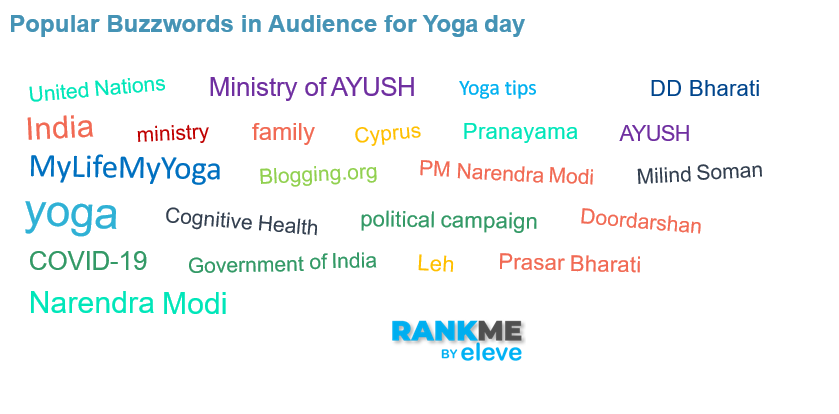 Hashtag and Buzzword Analysis:
Among all the channels, Twitter has the highest number of hashtag mentions with a total of 5296 mentions for keyword #MyLifeMyYoga, followed by Instagram, Tik Tok, and Facebook comments. It reached up to a total of 1051 mentions on 15th June. To get a clear picture of how well the audience is responding to the brand, here's a performance comparison between brand own hashtags vs audience usage.
The hashtag, #Mylifemyyoga was used by the audience for a total of 5324 times.
The brand used the same hashtag for a total of 103 times.
Some other popular hashtags and buzzwords related to yoga on social media are:
Hashtags: #mylifemyyoga, #yoga, #yogaday,#worldyogaday, #mylifemyyogainda
Buzzwords: Yoga, India, Narendra Modi, COVID 19, Ministry of AYUSH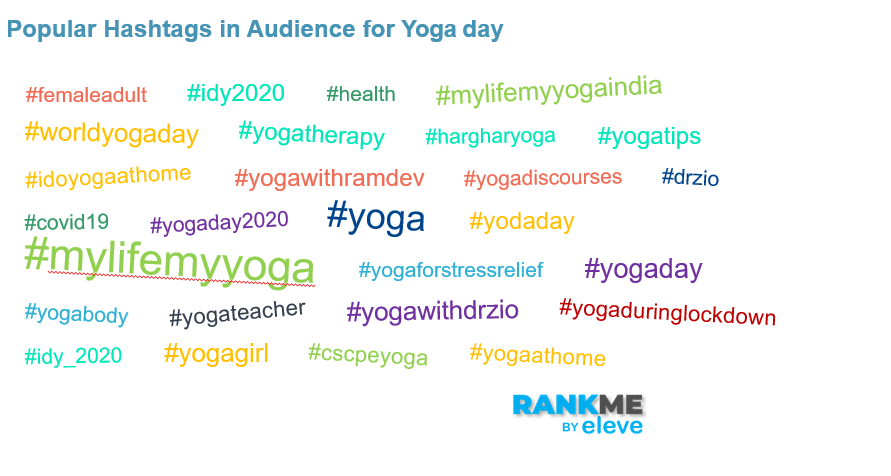 Popular social media users:
After analyzing accounts @millindrunning, @moayush, @mygovindia, it was noticed that the mentions spiked between 16th-17th June on Twitter, Facebook, and Instagram, whereas on Tik Tok maximum engagements were done on 26th May.
Audience Analysis:
Among the target audience, Social profiles formed the majority of influencers and were active on Twitter. Considering the language of the audience, English topped with 94.6% and consisted of the majority female population (36.4%) as the audience.
Mentions Location:
RankME's mentions location enables brands to access regional and global locations of the people who've mentioned the brand on digital platforms. Most numbers of mentions were from the state of Assam, and the city where the mentions topped the chart was Karimganj.
Yoga overall has gained a lot of attraction from all age groups over the past few years. People have analyzed the perks with time. Integrating yoga in daily lives is the best investment one can do for themselves. It untangles the complexities of life and connects the mind, body, and soul. Also, yoga has become a part of fitness conversation among popular keywords like gym, fitness, crosstraining.