'Cricket is not just a sport, it's an emotion' The line depicts the true sentiments of every Indian who is crazy about cricket. In India, cricket matches are considered as a whole new season and the craze to watch favourite players on the field is immense among the people. Be it test matches, world cups or IPLs, the enthusiasm among people remains constant when it comes to cricket.
Though this year's IPL date was pushed a little later due to the outbreak of coronavirus, it still is the biggest event of the year. This year's IPL is happening in the United Arab Emirates. It is the second time since 2009 that the league is being held entirely outside India.
According to viewership data released by Broadcast Audience Research Council India (BARC), the 13th edition of the Indian Premier League had the viewership of 269 million viewers in the opening week. Even though there is one less match this year and fewer channels are broadcasting IPL, the viewership has increased.
The opening match between Mumbai Indians (MI) and Chennai Super Kings (CSK) garnered a viewership of 52 million impressions, 29 per cent higher than 40.3 million impressions recorded during the opening match of IPL 2019.
In 2020, the viewership statistics have gone up by 11 million people per match as compared to last year. The reason for the spike of such a huge number in viewership could be due to the lockdown situation. Since most people are still working from home, watching a match is relatively easy as compared to last year.
Another reason for such a growth in viewership is seen, could be due to the availability of 4G network in devices. With easy access and affordable internet connectivity, watching IPL live streams across platforms has become easy. No matter what the social status of a person is, everyone has access to the internet these days, and hence, this could be one of the top reasons for the increase in the viewership of this year's IPL.
IPL sponsors:

Events like IPL matches are the biggest opportunities for brands to advertise their products. Finding a slot among many other competitors is a tough job and brands pay a heavy price to secure their place on the sponsor list.
Advertising product during IPL is a brilliant method for brands to put their content and message out because
Multiple people watch big matches
People skip the channel less during matches, hence the chances of them watching the advertisement increases
A brand gets large-scale visibility
Most sponsors this year for IPL are emerging startups. Since cricket is a great way for startups to connect with consumers, they are heavily investing in advertising. 
IPL ecosystem is worth Rs 47,500 crore, with its brand value appreciating 13.5 per cent in the last edition, which is the 2019 tournament. In 2020 IPL revenue generation hit a roadblock as the shrinking economy made it impossible for the market to support a grand sports event which required big chunks of money. 

Yourstory,
The startups stepped in to fill the place for all the advertisers who have been funding IPL before. Startups like Dream11, BYJUS, CRED and Unacademy are the leading players in the sponsorship business for IPL this year.
Indian Premier League 2020 Mention Analysis Report: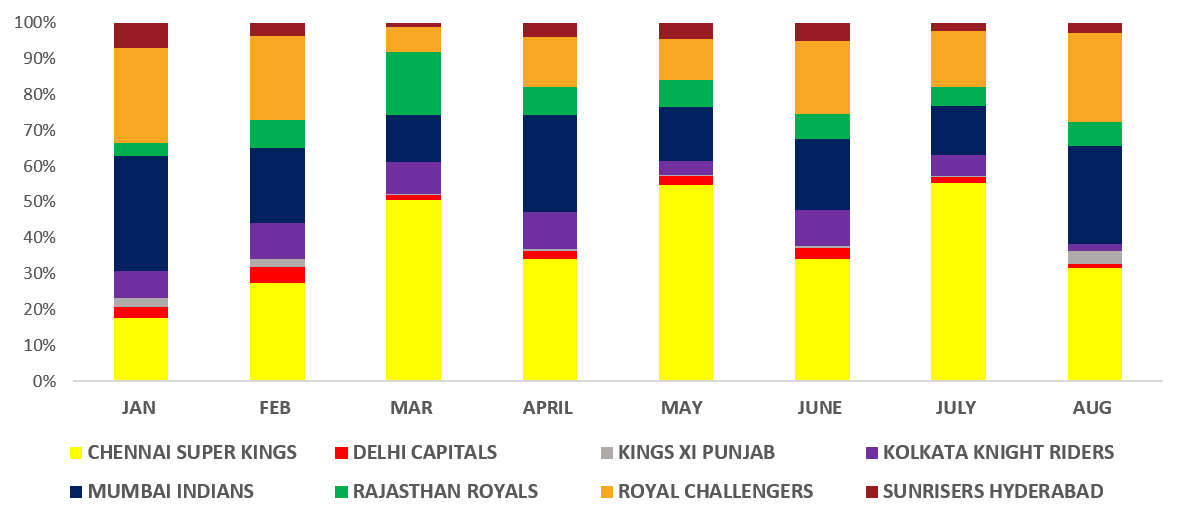 IPL each year creates a lot of buzz, both online and offline. That's probably because you don't get to see top players from different places in a single team each day.
IPL updates are creating rounds on social media. Fans, as well as multiple brands, are indulging and generating a lot of conversations around the league.
Eleve's RankMe tracked all social media Mentions and analyzed which team was able to generate the highest social media buzz around and across platforms.
What's in RrankME's mention analysis report? 
The report gives a detailed description of social media analysis, mention analysis and keyword analysis of all the IPL teams playing this year. 
Apart from separate social media analysis of IPL teams, RankMe report also contains a detailed competitive analysis of Key Indicating parameters of all the teams together. Below analysis is provided for every team participating in Indian Premier League (IPL) 2020
SOCIAL MEDIA ANALYSIS
Engagement rate of Instagram
Engagement rate of twitter
Engagement rate of YouTube
Engagement rate of Facebook
MENTIONS ANALYSIS
Total Mentions
Web Mentions
Social Mentions
Social Media Interactions
SOCIAL MEDIA K.P.I's
Potential reach
Engagements
Online reputation metrics
Channel wise mentions distribution
Keyword distribution by channel
Keyword distribution by sentiment
KEY COMPARISON METRICS – INDIAN PREMIER LEAGUE 2020 TEAMS
Social media analytics for twitter
Social media analytics for Instagram
3 months Facebook video viewership
8 months YouTube video viewership
Share of voice by mentions
Sentiment analysis of IPL 2020 teams
 All the Key Indicating factors mentioned by RankMe report are driven by an AI built algorithm. It analyses and measures each parameter in-depth and monitors competition with utmost perfection and accuracy. It helps brands build a focused and effective strategy-driven campaign. 
To find out which IPL team has won the race of Mention Analysis and how did the title sponsor performed on social media, click on the link to get access to the report: (Report link)