The Internet is an open space. It provides a platform to the masses to put forward their opinions, thoughts, and just them be themselves. But the freedom and liberty bring its own set of challenges and hurdles along.
Although social media channels are a great source of interacting with peers all around the world and are mainly established to share stories and connect, some people have miss interpreted the purpose.
With advancements in technology and the constant increase in the count of people joining social media platforms, the mishaps like hacking and bullying have also shot up. The rise of cybercrimes on social media platforms, specially cyberbullying on Instagram, has already affected a huge chunk of the population and is spreading like wildfire.
Cyberbullying on Instagram:
Instagram is one of the most popular social media platforms with millions of users. Youngsters capture the largest amount of target audiences of Instagram and are quite evidently very active on the platform. The continuous tapping, liking, sharing, and uploading is a part of the daily routines of the Millennials. With the platform being such a huge part of their lives, the fact that it consciously or subconsciously invades and impacts the little minds, cannot be ignored. 
The Instagram design provides a minimalistic approach and is a model, which allows users to do all actions like clicking pictures, making videos, editing, posting, and surfing, all on one platform. A space, like Instagram, which caters to so many features, naturally attracts many eyeballs towards the platforms. It indicates that identity theft, impersonation, intellectual property theft, grooming by sexual predators, private threats, and hate speech become a part of the social media arena.
With time, the cases and the cybercrime bullying intensity have tremendously increased. It exists in various shapes and forms, such as:
Posting a malicious or embarrassing photo of the target
Posting a demeaning caption along with the target's photo with a negative sentiment
Adding cruel comments under someone's post.
Creating a fake account to impersonate someone else and use their identity to post unethical content
Using hateful hashtags under a photo. Bully can use it under their picture or video or can comment on someone's profile
Directly messaging hate and disrespectful content to people
Most youngsters are getting targeted by the cyberbullying community. It is becoming pretty common and natural, and that is a huge problem.
How is Instagram tackling cyberbullying:
How to stop cyberbullying on Instagram is a buzzing question. The photo-sharing app does give the option to report and block a person's ID and delete their comment. But what if the bully makes another ID or even worse, hacks the main account of the victim?
Most people tend to ignore such cyberbullies because they don't want to indulge in some problems or be a part of their hit list. But ignorance is bliss only till a certain limit. Cyberbullies are hacking the photo-sharing app and are capturing each account like a virus. Instagram understood the urgency of the situation and has launched multiple anti-bullying features to protect accounts.  
Restrict feature:
As mentioned above, blocking bullies is not a long-term solution. It has two more reasons associated with it.
1) A bully is fully aware of the consequences of their actions. So, they might have a backup plan to escalate their plans. It, in turn, can increase bullying intensity or shift it to some other platform.
2) After blocking a bully, their ID becomes invisible, and it's not possible to keep track of the bully's actions, which is again a matter of concern.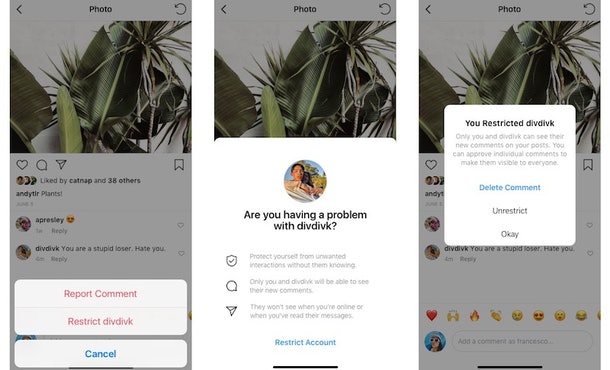 The Restrict feature addresses the above-mentioned concerns and takes a more practical approach to the problem. If any person posts an offensive comment or is continuously sending inappropriate messages, the feature allows restricting the actions of the bully.
Once done, a comment from the bully needs the account owner's permission. The owner can see the comment, and so can the bully, but unless the account owner chooses to release the restrictions, no one else can.
Messages from the restricted user will directly go to a separate inbox, and the owner can choose whether they want to read it or not. To restrict someone, swipe left on the person's comment, and tap on the privacy tab settings. One can also restrict by directly going to the person's profile.
Instagram has launched the Restriction feature globally.
Using Artificial Intelligence: 
By the means of artificial intelligence, Instagram filters potentially offensive content before someone posts it. It allows users to 'undo' their activities and does not send any notification to the recipient. 
The idea behind the feature is to let people introspect their comments as well as captions, and gives a chance to undo it.
For example: If a person types, "you are so ugly and stupid," the comment is interrupted with a notice saying, "Are you sure you want to post this? Learn more".
 If the user taps "learn more" a notice informs: "We are asking people to rethink comments that seem similar to other comments that have been reported."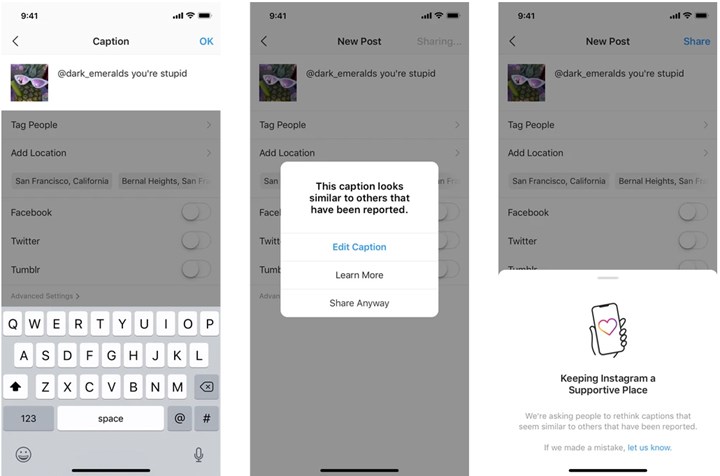 Manage comments in bulk:
Managing multiple bulk comments helps in sidelining multiple interactions at once. Users can now not only bulk delete comments but also bulk restrict and bulk block up to 25 accounts at once.
To do it on IOS, click or tap on a comment and then the dotted icon in the top right corner. Choose Manage Comments and pick up the 25 comments. One can also tap on More Options to block or restrict accounts in bulk. On Android, press and hold a comment and then tap the dotted icon and select Block or Restrict.
Apart from deleting negative comments, Instagram is giving way to users to appreciate positive comments. Users can pin their favorite comments on the top for everyone to see.
Set Manual and Automatic filter controls:
These controls help in:
Blocking comments from certain accounts
Automatically hiding offensive comments
Setting up a keyword filter to hide comments that contain specific words or phrases.
Turning off commenting altogether:
One can switch off the comment feature in two ways:
Going to the 'Advanced Settings' before posting the picture
Taping on three dotted icons in the top right corner after posting
Report feature:
Although the report feature has existed for a long time, it's still one of the best tools to fight against cyberbullies. One can report a comment by long-pressing, selecting, and then tapping the report icon on the upper right corner. People can also directly report accounts.
With so much going on, Instagram is initiating a few steps to make the platform a free and secure space for all users. All the features are a product of user feedback regarding cyberbullying on Instagram. Let's hope all that the features will help in cutting all the negativity and will make the app more fun and interesting soon.