Mashreq Bank is one of the leading financial institutions in the UAE and has introduced multiple cashback cards with various benefits attached to it. Any new variant of the cashback offering from Mashreq comes with extensive customer research and a deep understanding of consumer habits. As UAE is progressing towards new reforms, Mashreq is introducing measures, which can turn out to be beneficial in the longer run.
Mashreq launched its new cashback card variant, which offered cash back on restaurants. It wanted to make the experience of having a meal at a restaurant with loved ones even more rewarding. The launch of the cashback card is aligned with Mashreq's strategy to provide its customers with significant value as well as rewards that suit their needs. It aligns with customer expectations and digital onboarding experience. Mashreq's increasing awareness about the newly launched product among the masses through strong digitization strategies is what underlined this campaign. The new cashback solution features like giving a seamless and transparent customer experience which is an add on benefit to the day-to-day lives of the people, helped Mashreq to be a distinctive campaign among all the similar ones on the digital forefront.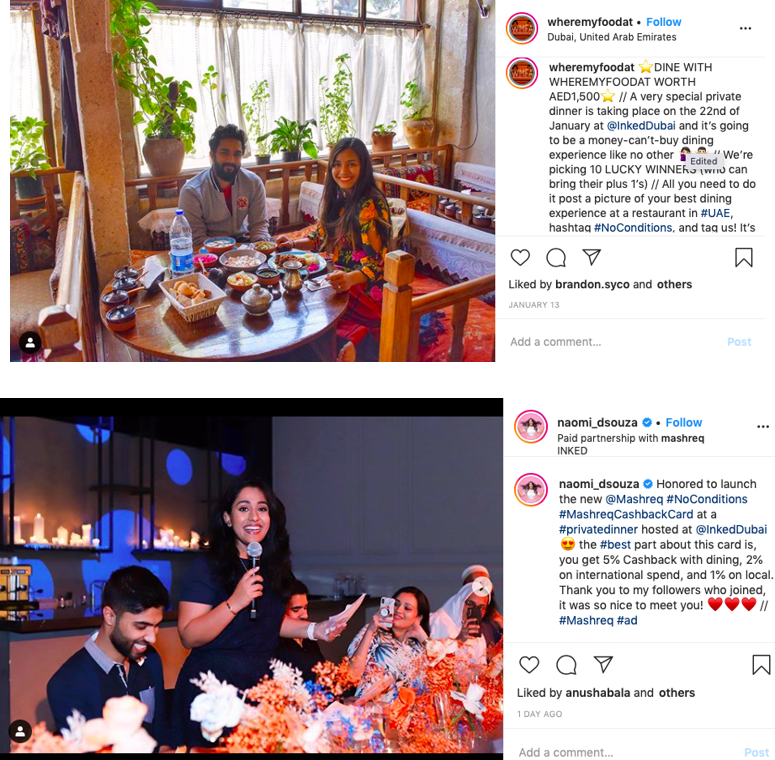 The digital strategic approach undertaken for Marshreq's cashback card was to involve premium food bloggers for greater reach and impact as well as create a buzz on the social media platforms by hosting an online contest. The contest was followed by a supper evening for food influencers and winners of the contests. The contest reached out to 38000 people on the social media platforms and turned out to be a huge success as more than 300 entries were observed in a day for the same.
More than 50 people attended the supper evening hosted by Mashreq. The gathering was followed by the launch and revealing the new cashback card among the food community. The online contest and the event created a massive positive impact on the launch of cashback cards and created a phenomenal effect on all the social media platforms, hence increasing the awareness of the product to a greater extent.