If you are a YouTube enthusiast, and you prefer YouTube over other platforms for content consumption, then we're sure that you know who Chotu Dada is and how he has contributed in the Indian comedy space.
Shafeeq Chotu aka Chotu Dada is a famous Indian YouTuber, comedian, and an internet personality. He's a most known face in the world of comedy and has managed to make a special place in all households through his performance on Indian comedy YouTube channels.
Chotu Dada rose to fame shortly after his debut on the YouTube channel Khandeshi Movies. After being in the YouTube business for long, Chotu Dada has become a sensational social media star now.
Chotu Dada's early life:
Chotu Dada was born and brought up in an India middle-class household in Malegaon, Maharashtra on November 25, 1991. He has studied till seventh grade. He developed an interest in the showbiz arena very early in his life and wanted to pursue his career in social media only.
In an interview with Join Films (YouTube channel), he mentioned that because of his short height, he was always targeted and he faced a lot of mockery by the villagers. But over time he changed his perception in people's eyes through his constant good work. He said, "Those people who used to make fun of me, now come and ask for my autograph and want to click pictures with me. Now I'm so busy that I don't have time to meet them. "
"My only motto in life is smile, and move forward. I never paid attention to any comments that were directed towards me. I'm glad that I have turned my biggest weakness, my height, as my biggest asset, and I'm very proud of it. "
Chotu Dada's YouTube career:
Chotu Dada started his YouTube career back when he met another YouTuber, Wasim. Wasim asked him to be in his videos, and since then there's no looking back for him.  He made his first YouTube video on February 10, 2017. He played the character of Chotu Hulk on Khandeshi movie's channel. The video went viral and has around 8.5M views to date. The audience appreciated his skills and talent and since then he has received a lot of recognition for his work. He has even worked in several short films and other comedy videos as well.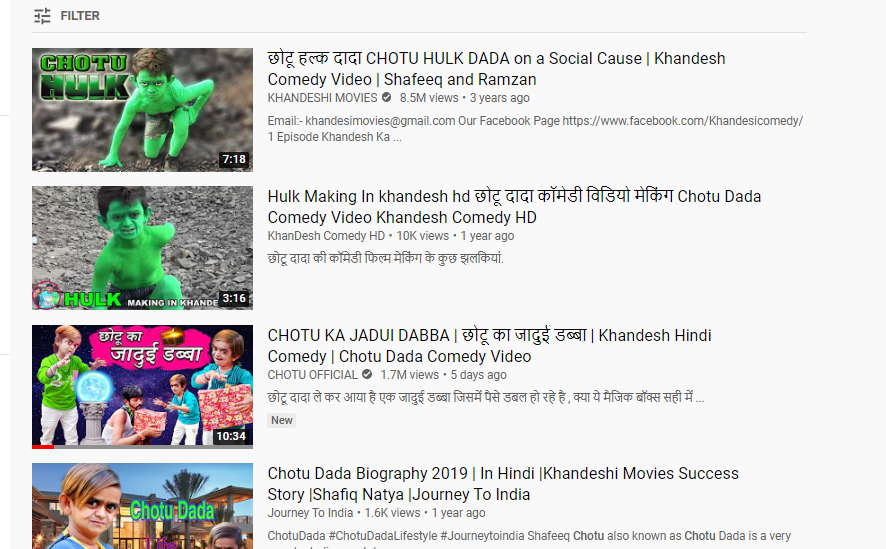 Now Chotu Dada is the face of the top four comedy channels, JKK Entertainment, Khandeshi Movies, Chotu ki Masti and Chotu Official. All four channels have millions of subscribers and are doing very well on the platform.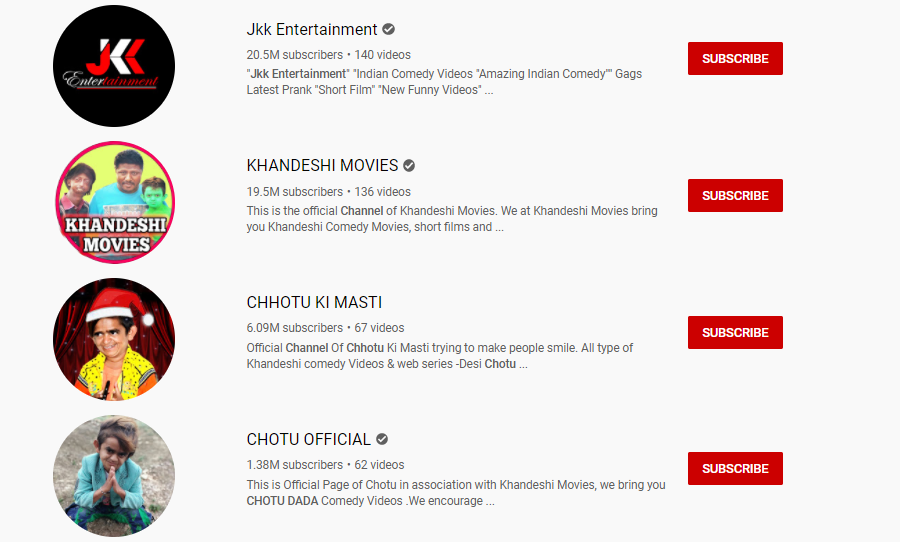 Talking about the growth of Chotu Dada's YouTube channels, JKK Entertainment is India's most viewed sketch and comedy channel on YouTube. He's so popular on YouTube that most of his videos cross one million views within the time span of 24 hours. Some of his videos have also crossed the benchmark of 50 million-plus views on YouTube, which is a huge milestone for any YouTuber. His 'Chotu ke golappe' video by Khandeshi Movies is the only video in the comedy & Sketch category which has generated one billion views.
Chotu Dada's YouTube content spike during the lockdown:
JKK Entertainment as a channel saw substantial growth of 600K subscribers in just a month. With quite a unique audience of its own unlike other comedy content on YouTube, the channel has also generated more than 2.57 billion views in only six months of 2020.
Analysing comedy content for the first six months of 2020, JKK Entertainment maintained its first position throughout six months with a total of 2,578,612,638 viewership. Khandeshi Movies captured the second position in Jan (314,000,000), Feb (166,000,000 views) and April (271,462,486). Chotu Dada is the main talent in both the channels.
Not just that, Chotu Dada's Khandeshi Movies and JKK Entertainment are the only two Indie creator YouTube channels to collectively generate more than four billion views. He's a strong believer in the fact that anybody can do anything they wish for if they have the will to have the power to do so. He says, "Just trust your talent, and everything will fall into place." Chotu Dada is always on the go with the content he creates and wants to continue making comedy YouTube videos in the future as well. We can expect more fun content from his side.