There's no fixed formula to make a successful campaign. Marketing solely works based on 'hit or miss.' The ambiguity associated with marketing makes it tough for marketers to come up with strategies that would prove to be rewarding for the brands. The good and the scary aspect of marketing is that what works for one brand might not work for another.
Most brand strategies can prove out to be a baseline for others, but the outcome needs to completely different than what has already done before. Finding new methods to approach customers and audiences is a challenging job, but it is necessary if brands want to makes their imprint in the market. Marketers can take ideas from other brands' marketing strategies, but the guarantee of success rate cannot be defined.
Influencer marketing in India is a subset of marketing and has proved out to be the most effective way in modern times. Just like in the broad-spectrum marketing does not have a fixed method; similarly, there's no one particular approach for influencer marketing. All brands that want to establish their presence in the digital space are likely to collaborate with influencers.
A decade ago, the influencer marketing arena was limited only to celebrities and a few dedicated bloggers. Now there's an army of influencers on almost all social media platforms. The influencer market is a saturated one, and not all influencers are at the same level if all factors like followers, reach, categories, and growth are considered.
Looking for influencers is a complex and complicated task for brands. It's no surprise that they might tend to feel lost in the mix during the procedure. Brands have to ensure that apart from all the campaign requirements, the influencers sync in with the budget they have assigned for them. Amidst this, the question that arises is, how do brands navigate and find a suitable influencer for the campaign?
Types of influencers in India:
Being prepared before entering any business is always a good idea as it minimizes the rate of risk. In influencer marketing, marketers hunt for preferable influencers who can:
Expand the brand's reach among the target audience
Strengthen the brand's messaging
Influence consumer buying decisions
Bring an adequate amount of profit for the brand.
Brands should ensure the right candidates are selected to carry out all the tasks mentioned above. For that, brands should have a sound knowledge of all different categories of influencers.
They can be classified based on various factors:
Each kind of influencers possesses a special kind of power and have the ability to persuade their audiences. Each category has its perks and gives a full platter to brands to choose which influencer is eligible for the campaign.
Influencer classification based on followers:
Based on the number of followers, influencers are divided into four categories:

Nano influencers:
The influencers that fall in this category have a follower track ranging from 100-1000. The follower circle usually involves family and friends of the influencer. Although the reach is limited, they have a high level of authority and have a high level of engagement in their social group.

Brands like to collaborate with nano influencers as the credit is less likely to be questioned because if the follower count is low, the chances of fake followers automatically decrease. The audience is most authentic, and they have a high level of influence over their small but tight-knit network of followers. Brands who target quality over quantity opt for nano influencers, which means brands want more people to have a real connection rather than having more people know about it.
Micro-influencers: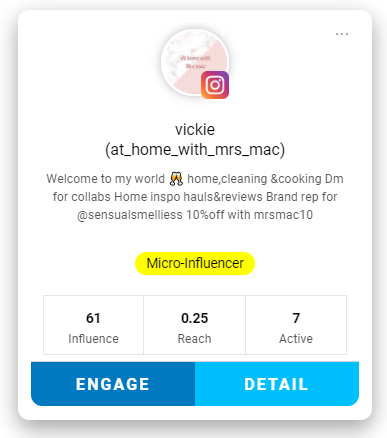 This category generally consists of influencers with the following rate of 1000-10K. Micro-influencers in India have the same benefits as Nano influencers, but just with the power of greater reach. They are relatable, authentic, and trustworthy. Their functioning is just like word-of-mouth but a bit more measurable.
Brands pick micro-influencers for campaigns because their chances of conversion rate become higher with the help of their niche audiences. They are comparatively much affordable than mega and macro-influencers and would go the extra mile in curating high-quality content to attract more brand deals in the future.
Macro influencers: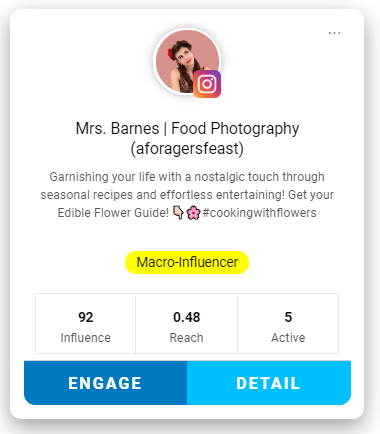 This group has 10,000-100,000 followers. Macro influencers in India have a broader reach and more social media presence than the categories mentioned above. Macro influencers collaborate with brands on an everyday basis and have a touch of professionalism added to their work. Even though they demand high prices, brands still collaborate with them because influencers understand what the brand needs, and sometimes, if the brand is open to suggestions, they give constructive inputs as well.
Mega influencers:
This category includes all celebrities and influencers who have followers up to the range of 100k- millions. These influencers in India have a high range of reach among the audience. They help in generating millions for a brand in terms of media value. Working with mega influencers in India is a hassle-free, time-saving job because celebrities have a management team that ensures all the back-hand work is done accordingly. Just one celebrity could do the work, which may have required multiple micro or nano influencers. The drawback of working with Mega influencers is that the brands have to pay massive amounts, and the engagement rate rarely turns out satisfactory.
Influencer classification based on the implementation
Personal influencers: These influencers know their target audience personally and have a high power of influence. The audience is usually friends, family, and acquaintances.
Experienced influencers:
People who have a direct connection with the brand's business, product, or service fall into this category. They do not have a direct relationship with the target audience but can be a great asset as they have great power of influence because of their experience.
Expert influencers:
People who have expertise over the brand's business, product, or service are called expert influencers. They use their authority and power to influence the audience around them.
Celebrity influencers:
This category includes all the celebrities from all fields that have a considerable fan base. Brands use public figures to reach the maximum number of audiences at once.
The composition of influencers into different categories helps brands calculate various campaign parameters and prices. By looking at the categories, brands can easily decide who to approach for a specific objective. Not every influencer type can be relevant to the brand. Categories simplify the job of the marketer and attain profitable results.