Influencer marketing is one of the most fast-paced forms of marketing methods in today's day and age. With influencer marketing making its mark across all platforms, it's essential to dig deeper and understand how the industry functions.
Eleve Media partnered with FleishmanHillard India to release the India Influencer Intelligence Report 2021. The report focuses on the key drivers among India's leading influencers and their impact on influencer marketing. The report content has been derived from the primary research done with over 500 nano, micro, and mega influencers across India and also involves conversations with India's leading brand marketers.
India Influencer Intelligence Report 2021 majorly focuses on the critical role of brand-influencer relationships, key strategies for both marketers and influencers, content shifts, emerging trends, and foreseeable challenges as the ASCI guidelines have come into the picture.
The report sums up the trends in five important parameters:
Connection is the New Currency
40% of Indian influencers ranked 'brand recognition or image or perception' as the most essential parameter while partnering and collaborating with brands on social media. It was followed by their 'personal experience with a branded product/service' (32%) and in the last place, 'compensation' (24%). 

Throughout the entire pandemic period, influencers and brands realized the importance of building an authentic connection with the audience. It implies that in the long run, brands will have to work more closely with influencers to tell a story to an audience. As for influencers, they will be mindful when choosing the brands they work with on social media. Influencers will have to ensure that they resonate with the brand and the brand captures the attention of the audience well.
2. Creator Direction Trumps Creative Direction
The majority of Indian influencers (87%) said they support the new ASCI Guidelines welcoming more transparency, and 77% also said they do NOT fear losing credibility with their audience because they disclosed their relationship with a brand. Over 60% said they are willing to collaborate with a brand even if the product isn't related to their niche. One aspect that the influencers did point out is the restrictions of creative freedom while collaborating with brands.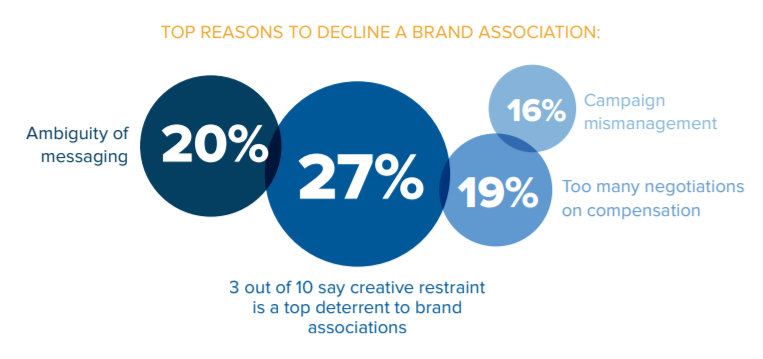 As the ASCI Guidelines have been introduced, there will be utmost transparency between brands, influencers, and the audience. The audience will be well-aware of the sponsored posts, and hence, brands will have to find creative ways to engage the attention of their target audience.
Influencers will get an upper hand in the content direction. Though brands know their products better, influencer's creative methods will help the product reach the brand's target audience. 
"Any fledgling industry is always regulated, and responsible advertising will go a long way to ensure transparent expressions. The agencies involved must play a balancing act, ensuring compliance and delivering brand wins. There will be a brief period of adjustments, and while it's too soon to speculate on any adverse impact, we welcome this move, as these mandatory disclosures stand to bring in an unprecedented level of transparency. While the onus of good advertising lies on all stakeholders involved, brands should adhere to this as it benefits the consumer at large."

Prince Khanna, Founder and CEO of Eleve Media
3.Influencers are Ambassadors
Over 72% of Indian influencers prefer long-term engagement over sporadic arrangements, as according to them, it can drive better results.
Most brands have been investing in short-lived influencer campaigns but ever since 2020, brands have realized how involving influencers in their campaigns can change the dynamics of marketing for them. 

Now brands are investing more time in finding suitable influencers for a long time to invest. It not only makes the brand genuinely believable to the audience but also deepens the relationship between the influencer and the brand. 
Although celebrities were termed as early influencers, the arrival of social media platforms ushered the wave of early self-made influencers. This evolution of content creators on various platforms has helped many brands connect with a like-minded audience. But marketers have remained more focused on the influencer statistics like follower count and engagement rates, while they need better campaign tracking options to understand how the content associated with their brand is consumed and therefore, how success can be measured.

Saurabh Saini, Head of Digital Marketing and Communications, Havells India Ltd.
4.Content Equals Clout
Most Indian influencers (84%) ranked content quality as the leading factor that brands should consider when choosing influencers for a partnership.
As long-term influencer associations become the means to bring authentic advocacy, brand associations will have to go just beyond clout chasing — falling for a popular trend without considering the fit. Especially now, with the ASCI guidelines being adopted, branded influencer content must be aligned, or it can lose its authenticity.
Going forward, brands will need to be embedded into content, communities, and lifestyles or consumers will see through the misalignment of values that makes influencer relationships transactional – and therefore ineffective – in the long run.
Influencers have managed to build trust among their followers, and they know ways to gain their attention online. That is why, for brands, influencer marketing is one of the easiest and effective ways to reach out to their target audience, while not pushing skip-worthy ads!

Abhishek Bhasin, Senior Brand Marketing Manager, MakeMyTrip
5.Micro is the New Mega
Although follower count plays a crucial part in the influencer marketing business, influencers with high numbers of followers sometimes lack relatability.
In the survey, after content, influencers ranked engagement rate as the second most important factor (42%) that brands should consider when partnering with influencers, with most influencers believing that 'profile reach' and 'follower base' are the least important factors.
Most brands go out for celebs and mega influencers for the campaigns.
As for micro-influencers, brands have only scratched the surface when it comes to the power of micro-influencers as opposed to macro- or mega-influencers. Micro-influencers have a close-knit community of friends and family, and it helps in creating more engagement than other categories of influencers.
Influencer marketing is the next big thing in the industry. With so many upcoming trends in the industry, it's important to seek knowledge from the industry experts and influencers involved! India Influencer Intelligence Report 2021 talks about the newest trends and the shape the influencer world will take in the long run.
To see the full report, tap on the link below.