Influencer Marketing: How it all started?
You will be surprised to know that Influencer Marketing history goes back to the 18th century.
Amazing, right?
Back when the word "social" meant genuine get-togethers with friends, our great great grandparents used to rely on product suggestions from print ads, radio, television and the people they met.
Talking about great great grandparents, do you know who was the first influencer who actually influenced them to get a tea set for their "social" gathering?
Well, a potter named Josiah Westwood made a tea set for Queen Charlotte and advertised himself as the 'Potter of her Majesty.'
With this title and the royal family's seal of approval, he became known as the 'Father of Modern Marketing.' And this is the year 1760 we are talking about. Royalty were the influencers of the era, and Wedgwood soon marketed his line as "Royal" approved.
Santa is not real!! – (just kidding)
Santa, a friend to all, became the face of Coca Cola in 1931 when they used him in their advertisements. If people love a character, they love what they're promoting and that is what Coca Cola made good use of.
The current scenario
Influencer Marketing has been a buzzword for a while now. We have seen a considerable increase in the search volume of the words 'influencer marketing' on google trends. There has been a 465% increase in searches for 'influencer marketing' on Google alone since 2016.
Influencer marketing has evolved over the years. Social media posts have substituted print ads as the audience now prefers to watch the video version of everything because it's more engaging and interesting.
There was a resurgence in influencer marketing during the Covid as people became active exponentially on social media and started engaging with influencers and celebrities. Brands saw the trend and seized the opportunity, they came, they saw, they conquered!
Brands now take help of various influencer marketing platforms to connect with the influencers for their products' and services' marketing and promotion, Eleve is one such platform providing these services and has a very compatible and easy to use user interface.
The future of influencer marketing is different tools that help brands sort the right set of influencers for their product marketing.
Who is an 'influencer?'
Now let's dive straight into who is an 'influencer'?
Influencers are people who have authority, knowledge, position, or relationship with their audience, a following in a specific niche with whom they actively engage.
They have the power to influence others' purchasing decisions. The popularity of their niche determines the extent of their following. They have a substantial online and social media presence.
When we talk about 'influencers', it is vital for us to understand the different types of influencers so that we can choose the right fit for collaboration and promotion of a product or service.
To search for different influencers who are a perfect fit for the marketing and advertising of a particular product or service, you can google by typing specific keywords in the area you want to categorize your product or service.
A better way to find the influencers for a specific niche is to use different tools that are now available and get a category-wise list of influencers who deal in a particular niche. For example, Eleve Tool helps you sort through the influencers and enables you to choose the right fit for your brand value.
When choosing an influencer, a significant consideration should be their niche. They've built a following over a certain period of time and would not want to compromise on their followers and what they are there for.
Also, a large number of followers does not imply creator success. Rather, authentic content that promotes online communities of engaged producers is the foundation for creator success.
Let's now see how influencer marketing helps a brand reach out to a larger audience.
When a brand collaborates with an influencer to promote and market its product or service, the main motive is to reach a larger audience. The audience actively engages with a particular influencer and believes in their creative content.
How does Influencer Marketing help your brand?
Since every influencer has their niche, their follower engagement is also aligned with it. It's important to filter out the influencers who already create content related to the same industry and similar services you provide.
Every influencer has shared interests with their followers, this is the reason they vibe and engage with their followers and so it becomes easy for a brand to reach out to them through the influencers' profiles, as their audience is already engaging with them in a certain way.
Suppose you choose celebrities over influencers, who have a comparatively more number of followers to collaborate with your brand, in that case, your reach will increase, but that does not always necessarily mean you have successfully marketed your brand.
This is why it is crucial to choose and sort the right influencers according to your needs and, most importantly, your brand's needs.
Audience sentiments can make or break your brand value, and here is when influencer marketing comes into play. Since the influencers have a very close relationship with their followers, they believe in what the influencer is talking about and their content and it can immensely benefit your brand and this is why you should even know how to choose micro-influencers with a specific niche.
How to choose influencers for your brand?
The key to choosing the right influencer for the marketing and promoting your brand's product or service is 'research.' Identifying influencers is the first step.
You need to thoroughly research the influencers who align with your brand value and the services you offer or your products.
Searching for hashtags on different social media platforms and filtering out the influencers is one way to do it.
This is a time-consuming process, but you cannot choose the right influencer you want your brand to be associated with without it.
There are some key aspects every brand should consider during the research process before collaborating with an influencer.
You should know what to look for in an influencer and what do brands look for in influencers. They view information such as audience demographics and influencer pricing to have a better idea of who to target with the help of Insights like,
Audience Demographics
Age & Gender
Location: Country & State
Industry Interests
Brand affinity
But, before marketers even look at the above mentioned metrics, they need to understand how effective an influencer is.
There are four key social media platforms in India that cover the majority of content creators (influencers) in India. These are Instagram, YouTube, Twitter, and Facebook.
You should know the basics first, say for example you need to know about Instagram, for that you need:
Instagram Impressions – Instagram impressions are the total number of times your content is displayed to people on Instagram, including repeat views.
Instagram Engagement – Instagram engagement measures how your audience is interacting with your content. Basically any time one of your followers takes an action on your profile or in response to one of your posts, that's engagement. The formula for calculating the same is – likes+comments/Followers count*100
Instagram Reels Views – This is the number of views each Reel has received on Instagram. Also, reel posts will not have impressions
Instagram Reach – The number of unique users that saw your Instagram post or story on any given day
Instagram Likes – This is the number of likes each Reel/Post has received on Instagram
Instagram Comments – This is the number of comments each Reel/Post has received on Instagram.
Benchmark Views – The best benchmark formulated by focusing on best performance of past campaign viewership
Benchmark Likes – The best benchmark formulated by focusing on best performance of past campaign likes
Benchmark Comments – The best benchmark formulated by focusing on best performance of past campaign comments
Achieved Saves – Post Avg Engagement benchmark (Likes + Comments)
Achieved engagement on post including views – This is the number of views each Instagram Reel and story has received.
Website Conversion Rate – The conversion rate is the percentage of users who take a desired action
If you are trying to calculate Instagram engagement rate on your own, you can use the following formula to compare the number of likes and comments you receive with your follower count:
For example, if Company A posted on Instagram to their 10,000 fans and received:
200 likes
100 comments
50 shares
This means that their total engagement would be 350 (200+100+50). Let's plug this into the equation:
Company A's Engagement Rate = 350 / 10,000 x 100% = 3.5%
For Twitter, it goes like
And for YouTube,
Impressions – How many times your thumbnails were shown to viewers on YouTube through registered impressions.
Impressions click-through-rate – How often viewers watched a video after seeing a thumbnail.
Unique viewers – Estimated number of viewers that watched your content within the selected date range.
Views – The number of legitimate views for your channels or videos.
Views from impressions – Views that originated from impressions for the selected date range.
Watch time (hours) – The amount of time viewers have watched your video.
Watch time from impressions – Watch time that originated from impressions for the selected date range.
YouTube Shorts Views – YouTube Shorts are vertical videos that are 60 seconds or less in length. Shorts can be a 60-second continuous video or several 15-second videos combined
The Facebook analysis is based on 3 factors: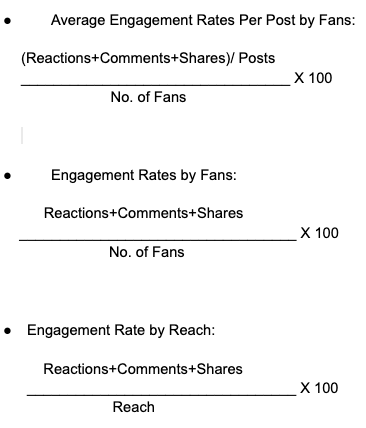 Now that you are well versed with the key metrics for the big 4 platforms in India, you should know where to get all this information from.
The current market is cluttered with multiple influencer related platforms that provide detailed analysis of the aforementioned metrics. But, when it comes to a detailed analysis of an influencer's profile, we can vouch for Eleve's influencer marketing tool.
Eleve has been in the market for more than a decade. And with our new influencer analyzing feature, we have helped brands find influencers on local and regional level.
For example, Eleve recently collaborated with Make My Trip in the campaign #OneTripAtATime and helped the campaign expand its reach.
The campaign was uber successful and won multiple awards in the advertising industry because of the right influencers we selected that delivered the ever viral MakeMyTrip #MyIndia campaign.
Eleve is your one-stop solution for all your influencer marketing needs.
Another tool to help you with influencer marketing is Rankme. They provide services like:
Trend Identification
Review Management
Track Social Influencers
Review Analyser
Regional Data-Driven
Social media Coverage
Industry report Generation
Competitive Analysis
Audience Analysis
Crisis management
How does an influencer marketing platform help you?
Now that you have made up your mind to go with influencer marketing for your business, (of course we know! Why else would you come here?) the 'HOW' pops up.
Can you contact influencers on your own and go forward with it?
Of course, you can!
But it needs a lot of research, strategic planning, approaching the influencers, constant follow-ups and whatnot!
With already a lot on your plate, this becomes an added responsibility which can take up a lot of your time. To save yourself this extremely hectic process, you can choose an influencer marketing platform that will do all the work for you.
All you need to do is brief us about your needs, and ta-da! You have an influencer marketing tool tailored specifically for your brand.