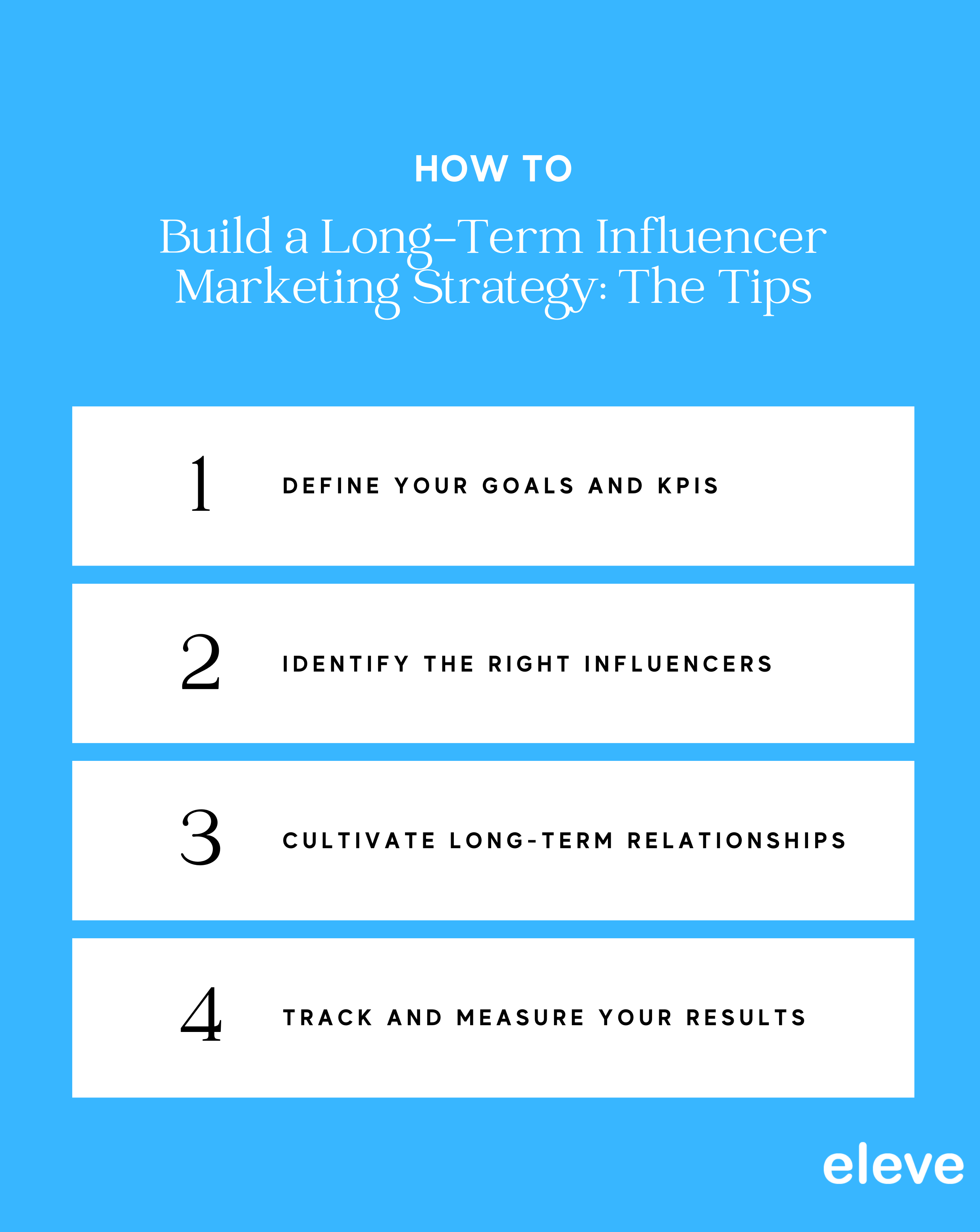 Influencer marketing is a powerful tool for promoting your brand and engaging with your target audience. But to achieve sustainable success, it's important to take a long-term approach that goes beyond individual campaigns or one-off collaborations.
In this post, we'll share tips and best practices for building a long-term influencer marketing strategy that drives meaningful results for your brand over time.
Define Your Goals and KPIs
Before starting any influencer marketing campaign, defining your goals and key performance indicators (KPIs) that align with your overall marketing objectives is essential. This will help you measure the success of your campaigns and ensure that your influencer partnerships are contributing to your business goals.
For example, if your goal is to increase brand awareness, your KPIs could include social media reach and impressions.
Identify the Right Influencers
For building a successful long-term influencer marketing strategy, it's important to identify the right influencers for your brand. This means looking beyond follower counts and assessing factors such as audience demographics, engagement rates, and the influencer's values and brand alignment.
Conduct research and vet potential influencers before partnering with them to ensure they fit your brand and goals well.
CreatorTag's Discovery feature is a place where anyone can find the right creators for their campaign with the help of advanced filters.
Here's how you can find the right set of influencers through CreatorTag:
Before even executing the campaign, every marketer behind the campaign needs to research more about creators and their statistics to answer some questions like
How do they fit into your campaign?
How much have they performed in the past?
Their availability and contact details.
And the ability to onboard the creator in your campaign.
Cultivate Long-Term Relationships
Focus on building long-term relationships with the influencers you work with rather than approaching influencer partnerships as one-off collaborations. This can involve regular communication, ongoing collaborations, and even ambassador programs that incentivise influencers to promote your brand over an extended period.
By cultivating long-term relationships, you can build trust and loyalty with your influencers and create more effective and meaningful campaigns.
Provide Value to Your Influencers
For standing out and building strong relationships, providing value to your influencers beyond compensation is important.
This could include offering exclusive access to products or events, personalised support and collaboration opportunities, or demonstrating genuine interest and appreciation for their work.
By providing value, you can build trust and strengthen your influencer relationships.
Track and Measure Your Results
It's crucial to track and measure the results of your influencer marketing campaigns over time. This can involve tracking engagement rates, conversion rates, and other KPIs and soliciting feedback from your influencers and audience.
You can build a more effective and impactful long-term influencer marketing strategy by continually evaluating and optimising your strategy based on your results.
A successful long-term influencer marketing strategy requires a strategic approach that builds strong, sustainable relationships with your influencers.