For any marketer or creator, keeping a tap on Instagram Analytics is as important as forming the right Instagram marketing strategy. It lets you take an insightful look at the changing patterns of the platform and helps you identify the latest trends, demographics, as well as contribute to your prospective strategies.
Every creator, brand, and marketer has understood the potential of Instagram, and how the likes, comments, and shares hold power to change the game for them. Since Instagram has become a hub for every marketer to release new campaigns, you need to step up your level and focus on creating effective strategies.
The competition is growing at the speed of light on the platform so you need to come up with a strategy that would out shadow all the other competitors.
The only proven way that you can analyze your strategy and make sure you're on the right track is by regularly going through Instagram analytics.
Why does Instagram analytics matter?
Instagram analytics gives you a detailed division of all the valuable parameters such as likes, comments, shares, reach, impression, as well as views. It helps you identify which category or type of post people like more. It gives you a chance to come back with another strategy that would be more personalized based on the choices of the audience.
It doesn't matter which category your account falls into or which category brand you promote, Instagram analytics is beneficial for all types of content creators and marketers.
If you're a creator, you can modify your content as per your audience's preference, whereas, if you're a brand or marketer you can use the analytical data to understand your audience's wants, improve your content, and ultimately drive more traffic and sales!
What metrics can you check through Instagram analytics?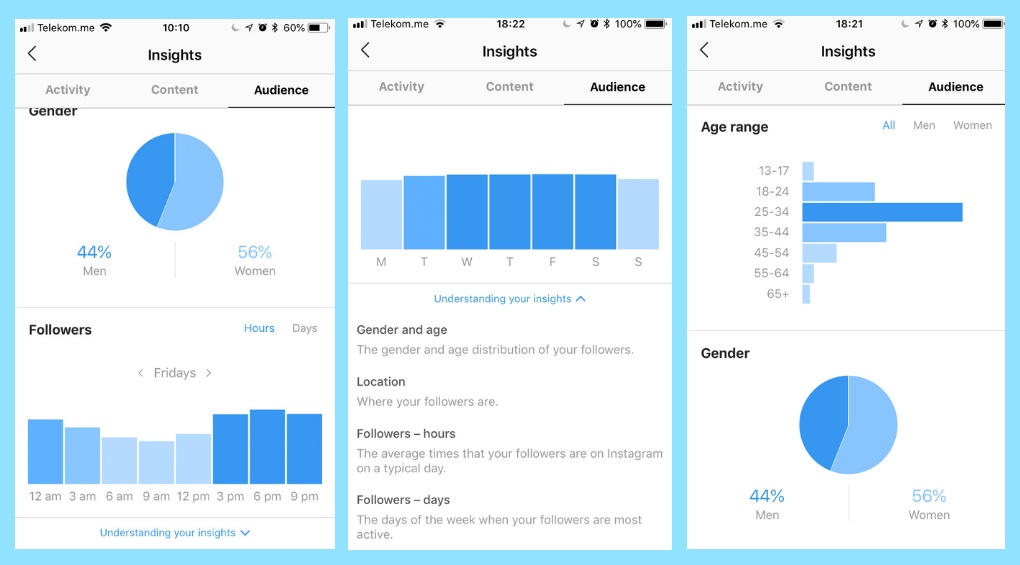 All the metrics available to you through Instagram analytics are key performance indicators, also known as KPI's. Instagram offers a ton of the KPIs to give a profitable shape to your strategies.
Here's a full list of what all Instagram analytics offers:
Audience demographics: You get all the details about your followers, their demographics, their follower count, gender as well as location. You can also tap on the follower hours and follower days to see if the audience is online.
Comments and likes: You can see the number of likes and comments on your posts by your followers.
Impressions: You get access to see the number of times your content was visible or seen.
Reach: You can see the number of people who have seen your content on their profile.
Mentions: You can see the number of times someone tagged your account in any posts
Profile visits: The number of times people visited your profile
Engagement/Interactions: the number of users that interact with your content, how they interact, and how often they interact.
Next story: The number of times a user proceeds to the next account's story.
Exits: The number of times someone exited from your story in the mid-way.
Back: The number of times users navigate back to the previous story in the queue.
Forward: The number of times users taps forward to the next story in the queue
How to see Instagram analytics:
Accessing and analyzing Instagram analytics is pretty simple. Once you tap on the right corner of your profile, the option you'll see is Insights. Click on it and get started.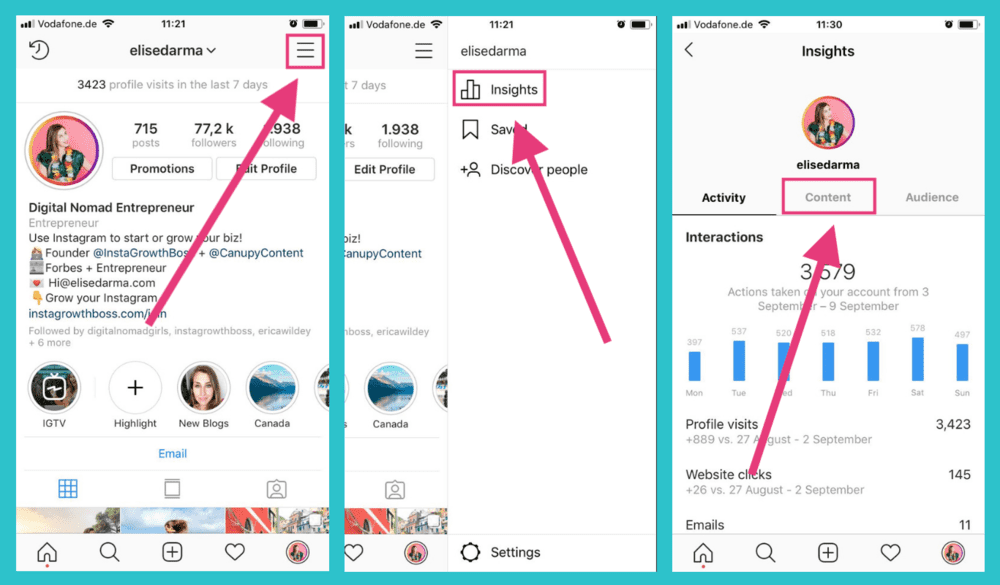 It will open the analysis of your business profile and show tons of metrics and analytics for your posts, stories and audience's demographics.
When you proceed further, you see that the insights section is divided into three parts: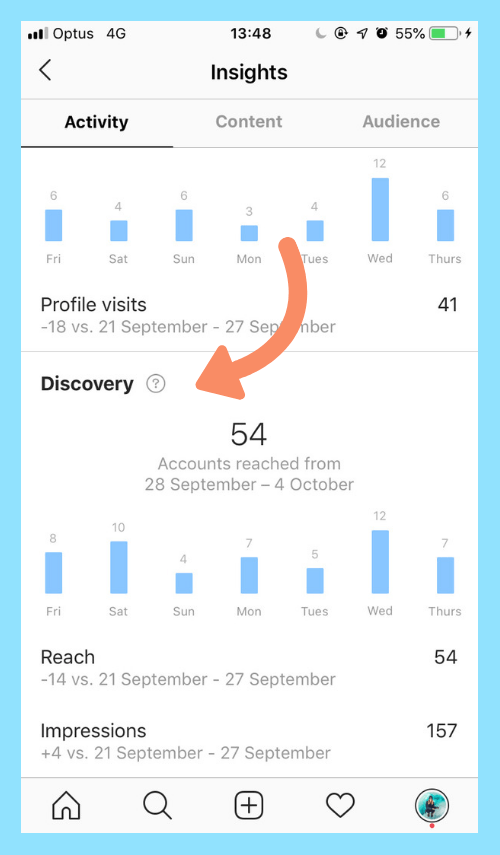 You can access all the three parts by going on the respective tabs. On the tabs, you get access to use all the above-mentioned parameters and get a detailed analysis of each KPI.
How does Instagram analytics help in increasing the brand presence on the app?
Helps you increase your followers:
The best way to divert the attention of more users to your account is to study the current usage patterns of your followers. It's important to have a clarity of who you want to attract on your account. Once you know who you want, you can construct your strategies accordingly, and hence it will increase your follower count.
Helps you identify the best posting time:
Posting at a time when most of your target audience is active on the app can be a game-changer for you. Every account has a different audience, in different time zones, so you must find your best time to post. Instagram analytics gives you a perfect breakdown of when your audience is online.
Through this, your engagement will rise tremendously, and your brand presence will get enlarged more.
Helps you create more engaging content:
Instagram analytics provides you with multiple key insights that you can access. Analyze your content and modify it according to the metrics, and it will give you the desired results.
Consequences of not using Instagram analytics:
If you're a marketer or a creator whose still not accessing Instagram analytics, then most likely you will:
Target the wrong audience
Post at the wrong time
Receive less engagement and have less reach
Miss out on most trends and audience feedback
Get low returns on Instagram marketing expenditure
Since the platform is serving you a chance to improve your strategies and create more profitable content for the audience on a platter, you should take full advantage of it. It is definitely one of the best features Instagram has launched and is extremely beneficial for any brand or creator who wants to make it big in the digital space.